Subscribe to our text alerts:
Summer Camp 2021
ANNOUNCING Centri-Kid 2021!
Centri-Kid is our Summer Camp for completed 3rd-6th graders (in the 2020-2021 school year).
Dates: July 10-14, 2021
Cost: $400
Where? Timber Creek Camp in Pulaski, MS
Limited spots are available and are first come, first served. Sponsorships are available.
Please click HERE for more information.
OUR MISSION:
Our mission in the Kids' Ministry mirrors the mission of First Baptist Church, in that we exist to lead children to become fully devoted followers of Jesus Christ.
OUR VISION:
In the same way, our vision for children is three-fold. We desire for children to develop a three-fold focus in their spiritual lives, Upward, Inward, and Outward. Upward focus is speaking of our personal worship of God. Children can experience this through our Wednesday Night Activities. Inward focus leads children to grow in their walk with Christ through discipleship, and through the different programs we offer such as Sunday School and AWANA. Outward focus relates to the aspect of our Christian lives where we focus on taking the Gospel of Jesus Christ to our community, country, and world through missions and evangelism.
Sunday Mornings
Gospel Project is the curriculum for Sunday School for Preschool/Kids/Students at FBC. LifeWay's Gospel Project is a Gospel-Centered Curriculum that takes kids on a journey through the Word and points each lesson right back to the Gospel! We hope that you will join us!
LifeWay has a smartphone app to go with the lessons for Sunday School. This is for Preschoolers, as well as Children! Just search "Lifeway Kids!"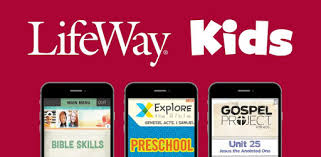 Preschoolers (Birth-4K)*
8:30 A.M. Service Extended Teaching
9:45 A.M. Service Age-Graded Sunday School
11:00 A.M. Service Extended Teaching
Older Kids (5K-6th Grade)
9:45 A.M. & 11:00 A.M. Sunday School Classes
9:45 A.M. 11:00 A.M.
5K-1st Grade 5K-2nd Grade
2nd Grade 3rd-6th Grade
3rd-4th Grade
5th-6th Grade
*Childcare is provided for Birth-4K each weekend and weekday service at FBC. However, we do encourage children 5K and up to attend Sunday Morning Church Services with their families.
Sunday Nights in Fall & Spring
Sunday Nights • 5:30 P.M. until 7:00 P.M.
3 year olds (as of 9/1 of the current school year) through 6th graders.
Check-In and Pick-Up are in the Fellowship Hall 4:45 P.M.-5:00 P.M.
This is a ministry of FBC where children learn Scripture, play games and study God's Word.
Wednesday Nights
Our Wednesday Night Activities for Preschoolers and Kids are worship-based. Our goal on Wednesday Nights is to teach kids what it is like to worship.
Preschoolers meet in the Preschool Wing in Room 107 at 6:00 P.M. and have music, a Bible Story, and a craft. Explore the Bible is used for Preschoolers on Wednesday Nights.
Older Kids (5K-6th Grade) begin as a group in Worship, followed by Bible Study, and split into age-graded groups for activities. We meet each Wednesday Night at 6:00 P.M. in Room 213. Older Kids are currently going through a series called "Love the Word" where they are learning about the Bible, the Books of the Bible, and a lesson from each book of the Bible each week.
Check in for Birth-6th Graders on Wednesday Nights is at 5:45 P.M.
Bible Drill
Bible Drill is a wonderful opportunity for both children and students in the church. Participating children and students will develop skills in the use of the Bible, increase their knowledge of the Bible, and learn how to apply the Bible to everyday life experiences. (From MBCB.org)
FBC has Bible Drill for children (1st-6th grade), as well as students (7th-12th grade).
Bible Drill packets are available now for pick up in the church office. Please email Jackie at if interested.
For more information about all things Preschool and Children, please e-mail Jackie McMinn at